Download Your Designs 24/7/365
Greetings everyone,
I hope everyone out there is having a fantastic  summer.  Before I say anything else let me take a moment to thank each of you for making Qdigitizing a success.  Without you guys, we are just a web site.  We don't get a chance to say it enough so I want you to know how much all of us at Q appreciate your continued support.
One feature on our web site that many of you are not aware of is we store all of your designs and related material "in the cloud" in your own private account.   All you need to access your design archive is your private login credentials.  From your archive you can download any or all of your entire design history.  If you want, you can use us as a failsafe back up.  If you lose your designs we will have them for you 24/7/365. Following is a quick tutorial for how to access.
1.  Navigate to www.qdigitzing.com
2. Log in to your personal account.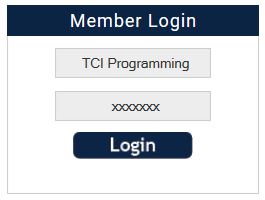 3.  Hover your cursor over Order Archive and select either the Digitizing or Artwork archive.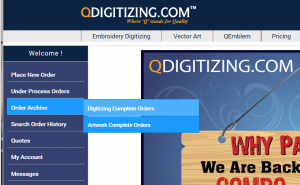 4.  Once inside your archive you can view design thumbnails and download the files or simply review.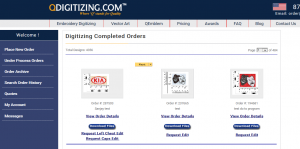 5.  You can also search your order history by using the Search Order History menu selection.


6.  Once you click the Search Order history Link you can enter the order number or what you think the design was named.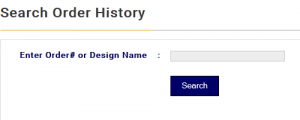 The Order Archive is a very powerful feature on our web site.  I hope you will find it useful.  Don't foget, you can also use the web site to place orders, request quotes, send notes to our staff and maintain your account information. 
Thanks again for everything and don't forget if you would like to ask any questions specific to the world of commercial embroidery or digitizing you can leave me a message here, call me toll free at 877-33-4390 or send an email to steve.freeman@qdigitizing.com.
Steve Freeman
Managing Partner
www.qdigitizing.com