Introducing The Color of the Year
PANTONE 18-1438
MARSALA
A naturally robust and earthy wine red, Marsala enriches our minds, bodies and souls. This might be a great choice for wearing in February because it is Valentines day feeling after all.
 A UNIFYING ELEMENT 
The impactful, full-bodied qualities of Marsala make for an elegant, grounded statement color when used on its own or as a strong accent to many other colors.
 A TASTEFUL HUE 
Much like the fortified wine that gives Marsala its name, this tasteful hue embodies the satisfying richness of a fulfilling meal while its grounding red-brown roots emanate a sophisticated, natural earthiness. This hearty, yet stylish tone is universally appealing and translates easily to fashion, beauty, industrial design, home furnishings and interiors. Marsala is a stirring and flavorful shade for apparel and accessories, one that encourages color creativity and experimentation. It has already been picked up for use in the fashion, beauty, industrial design, home furnishing and interior industries.
But don't be afraid to find innovation and new ideas in unusual places.  If it helps your customers think more about current trends, then there will always be a place for "Color of the Year". Knowing the trends in fashion helps you advise your customer when they are stuck to come up with something new for their school, sports teams, or other groups. Most ink companies keep up with the Pantone Color of the Year, so don't be afraid to ask your printer for the color or help with your design. If you don't want to use it for your ink color choice, ask your garment provider what garments come in Marsala. They too are keeping up with the trends.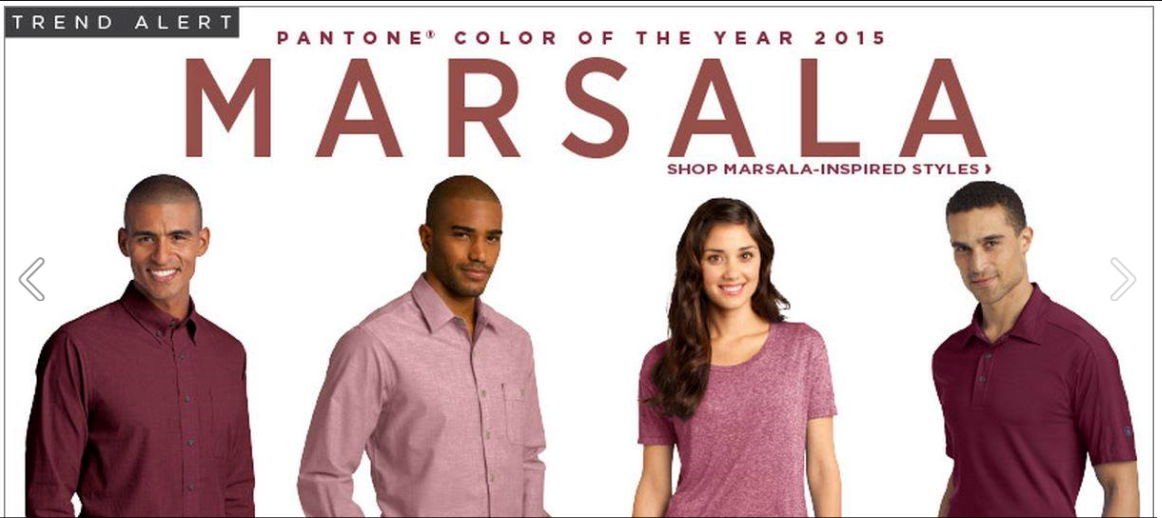 If you want to see other colors that go with Marsala or other color trends, pantone.com is a wonderful site to explore. Be Adventurous! Be Bold! Be Colorful!
Until next month.
Cora Kromer
cora@qdigitizing.com