Matching PMS Colors to Thread Colors
Greetings everyone! As we enter the busy season everyone will be looking for ways to save time and money. To that end my blog this month is short on content but powerful in utility!
One of the most challenging aspects in commercial embroidery is color matching a logo to a predefined and exact color palette. Additionally some customers are far more particular about a match than others. The fact of the matter is that the dyes used for coloring thread are not a dead on match for the Pantone or PMS color matching systems and while many of the thread manufacturers offer a cross reference to these systems it can be argued that while there is no such thing as a "dead on" match with the right tools you can get very close.
So what is an embroiderer to do if a customer insists that you match a thread to a PMS color?

Recently I found a very useful tool at this web site http://www.ud.net/thread/. At this URL you will find a tool where you can enter a Pantone number and the web site will suggest a thread number for several different thread manufactures to include:
Madiera
Gunold
Robison
Isafil
Wire
Fufu
For instance, lets say you are looking for "Red." For me, I consider Pantone red to be 186. If I enter this number I will get a result of 1147 for Madeira. I can tell you from more than 15 years of running a production embroidery shop I used Madeira 1147 for my primary red color. For royal blue the Pantone is 286 and the Madeira reference is 1134. Again, this is what I used for royal nlue for as long as I can remember.
*** Click image to see image full size – use back button on browser to return ***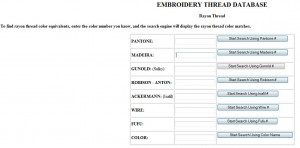 The true beauty of this web site is you can enter a thread number and the site will return a matching thread number (if one exists) for the other manufactures listed above. This can save you countless (countless) hours when you are trying to cross reference threads from one manufacturer to another.
Folks, sometimes the smallest things can make a big difference. I think you will find this site incredibly useful. I wish I could take credit for having developed this web site but I can't. You will find this web site hosted by the Embroidery Mall and developed jointly by Stitches Magazine, Big Bear Embroidery and Universal Design, Inc. I would like to personally thank them for creating this incredibly helpful web site.
I hope to hear from all of you soon. And I hope you will m ark your calendars to come meet us at two major industry trade shows in January:
ASI Orlando – January 6 and 7
And
ISS Long Beach January 18-20
If you have any questions please email me at steve.freeman@qdigitizing.com. I really want to hear from you about topics you would like me to discuss here.
Steve Freeman
Qdigitizing.com
877-733-4390