We hope we got to Meet you at ISS or ASI Shows!
Hello Everybody…
I am freshly back from the ASI Orlando and ISS Long Beach industry trade shows.  We had a great time and we hope you did as well.  I would say between the two shows we were able to put faces to about 50 of you who usually only get to  speak with us on the phone or by email.  I cannot begin to tell you how much I enjoy being able to meet those of you who made it to the show.   For those of you who missed us the picture below shows me on the right, my busines partner Amit on the left (he manages the production facility) and the lovely young lady in the middle is Bridgetta,  our marketing specialist who works trade shows and other industry events with us.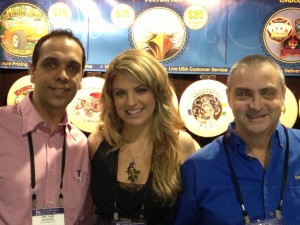 While at the show we were able to connect with many of you to discuss what we have been doing well and yes, in some cases a few of you let us know what we need to improve on.  As much as we enjoy the compliments in some ways the complaints are more valuable becuase it lets us know what we need to focus on in order to provide you with a better product and serrvice.
To that end we will be working on enhancements to our web site  that will make communicating with us easier and more accurately.  WE are also always working on ways ways ti improve our work flow and quality.  PLease don;t be shy…if you have suggestions let me know.  Sometimes it may hurt but I really want to know.
Keep tuned to the web site and your email for details of features we will be rolling out toward the end of the first quarter and  the start of the second quarter.  And as always…follow us on Twitter or Facebook for all of the latest news and information.
Even though the trade shows were all  about business and were able to have some fun as well!  Here is Bidgetta making it official that Big Foot is more than a myth!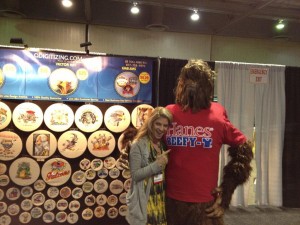 And this picture is a picture of one of four (yes FOUR) winners of Amazon Kindles that we offered as door prizes to one lucky person each doay of each show.  Congratulations to Eric Hilferding from Class B apparel on being just one of the lucky winners.  We hope you enjoy your Kindle.  They are pretty cool devices.  And don;t forget our APP work perfectly on the kindle!  YOu can find it in the Google PLay Store or iTunes store by simply typing Qdigitizing in the search feature.  The APP is free and will let you place orders, check status, and download/email all archived files to the location you specify!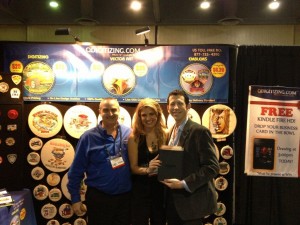 We really had a blast and later this year we hope to meet you at two more shows we planning on exhibiting at.  We have not confirmed these dates yet but as of this writing we plan to be in Chicago at the ASI Show in July 16-18,  and Fort Worth for the ISS Show in September 26-28.  Hopefully with our making the east, west, north and south portions of our great country we will have every opportunity to meet each and every one of you.
I hope to hear from any or all of you soon.  Don;t forget you can always reach out to me by email at steve.freeman@qdigitzing.com or simply pick up the phone and give us a call!