Do's and Don'ts for the Order Comment Box
Greetings everyone,
Today's topic is short but important for those of you who place orders using our online order system.
It is important for all of you to know that the General Comment text box IS NOT meant to be used to ask questions, request quotes, request rush service or to enter information where you expect to receive feedback from myself or any of our employees.
This text box is only meant to provide instructions for the design which are not apparent simply by an examination of the art.
If you need to ask us a question about an order please call us prior to submitting your order, I 100% promise you will be more pleased with the process if you call us first for issues similar to the examples shown below.
Based on this image one (possible) example for the proper use of the Comment Box is show here.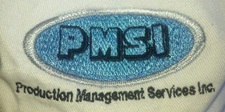 The Comment box SHOULD be used to provide specific instruction for how to program a design as shown here.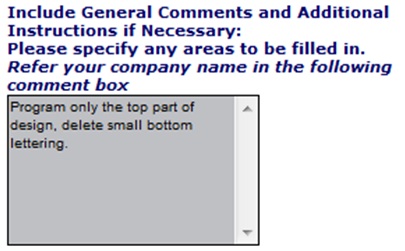 The following 4 images are examples of how NOT TO USE the Comment box.
1. The Comment Box should never be used to request quotes. We have a specific area of our web site for requesting quotes. The staff who reads the Comment Box do not have the ability to reply to your quote request. They will forward these quotes to my attention but this really slows the process down.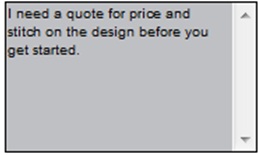 2. The Comment Box IS NOT the place to ask questions. Again, the staff responsible for programming your design do not have the ability to communicate with you directly. If you ask a question the design will be put on hold and staff will forward your message to me for review. But again, this can slow your order by as much as a day.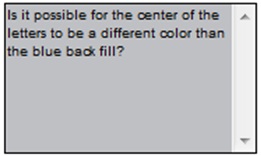 3. NEVER request (or expect) rush service when requesting in this manner. Our web based order form has a button you can click to request Same Day Service. However, it is important to note we do not have a service level between Same Day and our standard Next Business Day. If you are really in a pinch for a rush order you must call customer service (877-733-4390) and request special help prior to placing your order. Rush requests must be reviewed on a case by case basis and we may not always be able to accommodate you. Also, Same Day Service orders are only accepted up to 4:00pm eastern time.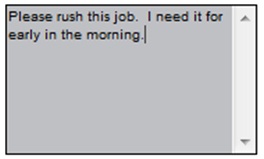 4. Do Not ask opinion based questions. If you need to discuss a design you will receive much better service if you call us prior to placing your order.
You should be aware customer service is open 9:00am to 9:00pm eastern time, M-F. If you send an email or leave a message on our phone systems outside these hours you may not hear from us before the next day. However, you should be aware I monitor email in the evenings and on the weekends. If you send a message with a brief question I will most likely respond to you but it might not be until later in the evening when I settle in to catch up so I won't be buried the next day. Since Qdigitizing is "my baby" I am around during the full course of our customer service hours. However, Flora only works an eight hour day starting at 11am eastern and knocks off at 8:00pm eastern. Flora does not answer phones or emails outside normal customer service hours. Do not expect to hear from Flora outside these published hours. Our production facility operates 24 hours a day 6 days a week. We are 100% closed on Sunday and all major USA Holidays.
I look forward to speaking with all of you soon. Feel free to send me messages here or don't be shy and email me at steve.freeman@qdigitizing.com
Steve Freeman
Qdigitizing.com